Chunky Herringbone Oak Parquet
Chunky Herringbone Oak Parquet
Herringbone and chevron patterns continue to be a huge trend for 2016 - the trend for chunky battens provides a striking effect when laid in a herringbone pattern. 'Over Sized' herringbone can also be laid in a double or triple herringbone or dice pattern for a contemporary classical twist. The timber of choice is generally Oak and as above with finishes that enhance the natural grey hues.
Natural Matt Oiled Floors
Natural Matt Oiled Oak Floors
Natural oiled matt wide plank floors are also really popular with those seeking a simple modern look. Wide plank European Oak with a natural oil finish feature highly in our top 5 , with matt finishes that enhance the natural grey biscuity hues and beauty of this timeless timber.
Save
Solid Wood versus Engineered Wood Flooring?
Solid Wood versus Engineered Wood Flooring?
People are often unaware that wood will react according to changes in humidity and temperature. Using solid wood flooring in modern installations involving heating, air-conditioning and under-floor heating systems is therefore very unwise and risky due to its instability. Today's demands for wood flooring installations therefore necessitated adding stability to timber / wood flooring.
Coastal Inspired Oak
Coastal Inspired Oak flooring washed up to be super stylish in 2016 and amongst our most popular floors in 2017 and specified for Rick Stein's Sandbanks above . The Band-sawn finish adds texturised rustic charm, whilst the bespoke creamy stain enhances the natural hues. Classy, yet understated & super stylish ... organic hues, a weathered aesthetic and sealed in with a low-lustre UV oiled finish. 
Evoking the texture and organic hues reminiscent of wood that has drifted from the far corners of the ocean is on trend. Weathered grey tones and distressed textures work well with our engineered  The colour palette is natural and organic grey / biscuit tones... we achieve these tones by staining -  a nature oil finish to retain the natural colouring within the timber, or a smokey grey or white stain for driftwood hues.
 Coastal Inspired Oak
  Please contact us for more information and samples
Natural Coastal Oak flooring at Rick Steins Sandbanks
The bespoke Natural Coastal band-sawn Oak flooring we produced for Rick Stein's at Sandbanks (depicted above) was stained a pale translucent creamy  / grey and evokes a driftwood feel with the texturised surface of a band-sawn finish - pure coastal chic.
We produced bespoke Coastal Inspired Oak flooring for Rick Stein's at Sandbanks which evokes a relaxed, coastal chic. The flooring features a band-sawn finish which adds depth and character enriched by a creamy white stain enhancing the natural hues within the timber.
Driftwood Inspired Oak - Unfinished
This was another bespoke finish - distressed by sand-blasting to produce a Driftwood Inspired Oak floor £P.O.A. depending on timber of choice...
Nature Oiled European Oak
 The raw, natural beauty of this classic timber is enhanced by a natural finish waving goodbye to the honey pine yellowing that has become synonymous with Oak flooring. Greyish beige  /grey tones are the new neutrals within coastal inspired interiors and found naturally within raw Oak. Our Low-Lustre Nature UV Oil finish retains these gorgeous hues and prevents yellowing....naturally beautiful.
White-Washed Oak  - Saatchi
 Our Saatchi White stain pairs beautifully with European Oak and provides  a light airy , natural coastal feel to an interior.
Douglas Fir Flooring - White Lye & Soap

The popularity of Douglas Fir flooring continues to reign through 2016. Douglas Fir lends itself beautifully to a white finish. The beautiful Saatchi Gallery floors in London (Dinesen - Solid Douglas Fir , White Lye & Soap finish) are undoubtedly the inspiration ....White Lye & Soap is the stain for the stylish. The lye lightens the colour of the timber - and the soap - whitens it further, and protects against dirt and grease but requires regular reapplication throughout the life of the floor. Douglas fir is an abundant and sustainably harvested, certified softwood timber species. The dimensional stability of solid Douglas Fir flooring can be an issue increasing with the size of the boards.
Band-sawn Natural Cream Oak
Our Band-sawn Natural Cream finish texturises the Oak floor boards with a rough-sawn, undulating surface. The natural cream stain both adds tonal dimension and retains the natural creamy/grey hues sealed in with a super hard-wearing low-lustre UV Oiled top-coat. This beautiful finish plays up the natural beauty of European Oak flooring with every floor and every floorboard being inherently unique. The floor above was specified as mixed-width which enriches the slighty rustic aesthetic.
Rustic Smokey Band -Sawn Oak flooring
Our Smokey stain combined with an undulating band-sawn texture, provides a deeply rustic aesthetic with a rough-sawn texture .
Other options include
Wood Flooring Trends 2016
Douglas Fir Flooring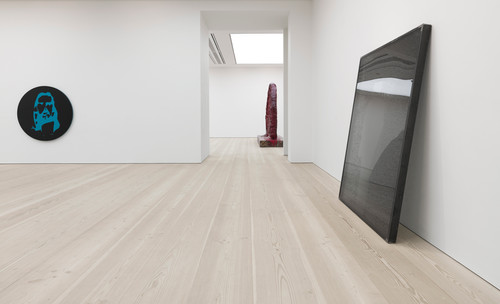 Many of our early projects this year have been for wide plank Douglas Fir or White Ash floors either white  / pale grey stained or bare natural matt white finishes. These shades and finishes complement the interior trends for the season and provide a perfect contemporary backdrop. The inspiration for this trend is undoubtedly The Saatchi Gallery in Sloane Square graced with beautiful Douglas Fir with a White Lye and Soap finish.
How to easily remove scatches or refresh / repair an oiled wooden floor
Whenever restoring your hard wax oiled wooden floor, it is always important to consult the hard wax oil manufacturer's instructions / directions beforehand. This is because the general process may differ. The next thing is to identify the level of damage / wear i.e. whether the whole area of your floor needs refinishing or just a small isolated patch.
Read more: How to easily remove scatches or refresh / repair an oiled wooden floor